Sponsoring Luise Kummer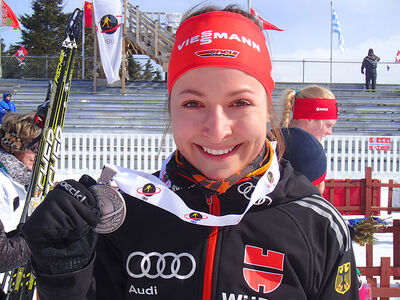 The athlete Luise Kummer was born June 29. 1993 in Jena. After attending elementary school she went to High School in Ilmenau. Through a friend, she started to practise biathlon in her spare time. Due to the fun it was to her and her huge interest in the sport, she decided to go to the gymnasium in Oberhof in 2007. Only there she had the best chances to perform her hobby biathlon.
In the course of time she developed the desire to perform her sport professionally. In the next two seasons she was able to reach D/C squad and qualified for her first international contest – EYCF in Liberec. Together with her sqadron he also managed to receive first place in the German championship. Altogether she made it to place 4 on the overall ranking oft he German trophy. Due to her qualifikation for the Junior World Cup in Finnland, she managed the jump to C-squad in 2012 and also made it to the sliver rank on the overall ranking list. It was the same year she graduated from gymnasium.
She decided to apply for the German Army (Bundeswehr) to finally be able to perform her sport professionally. She´s been an athlete soldier since Septemr 3rd 2012. The Army enables her to concentrate on her athlete career only and to prepare fort he upcoming winter season.
Her greatest goal is to qualify for the junior world championship in Obertillach and win a medal there.
More information on Luise Kummer Website